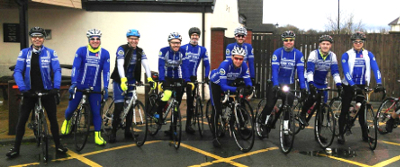 Ferryhill Wheelers have many varied club rides throughout the year.
Details will be published here, on our Strava page and Facebook.
Full length mudguards are obligatory during winter months (1st Nov - 31st March).
Upcoming Rides:
Wednesday Club Ride
10:00 Every Wednesday.
Meet Up Spot - At the junction of Heighington Lane and Station Road, Heighington.
Route and distance to be decided on the day, with a cafe stop. No drop ride.
Saturday Social Club Ride
09:45 Every Saturday
Meet Up Spot - Mainsforth Cricket Ground, Ferryhill
30 Mile - Casual, 14 - 16 mph, strictly no drop.
Route details can be found here. https://www.strava.com/clubs/18065/group_events/377419
Sunday Club Ride
09:30 Every Sunday
Meet Up Spot - Gretna Pub, Aycliffe
Tempo / Mainly Flat
50 - 70 mile routes with brief cafe stop (16 - 18 mph depending on terrain).
Route details can be found here. https://www.strava.com/clubs/18065/group_events/645416
NOTE: GUESTS ARE WELCOME TO RIDE UP TO THREE TIMES ON THE CLUBS THIRD PARTY LIABILITY INSURANCE