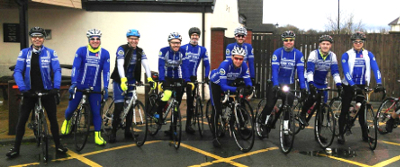 Ferryhill Wheelers have many varied club rides throughout the year.
Details will be published here, on our Strava page and Facebook.
Full length mudguards are obligatory during winter months (1st Nov - 31st March).
Upcoming Rides,
Saturday Morning Social Ride 26th May.
10:15 from Miainsforth Cricket Ground.
https://www.strava.com/clubs/18065/group_events/327901?new=true
Club Ride 27th May - Stokesley - Note 08:30 start time from Gretna, Aycliffe
NOTE: GUESTS ARE WELCOME BUT MUST HAVE THIRD PARTY INSURANCE AND RIDE AT THEIR OWN RISK.
https://www.strava.com/clubs/18065/group_events/328913