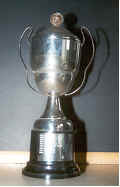 Awarded to the rider with the fastest time in the Club 25 miles championship.
Minutes 29 Nov. 1970 A.G.M. "J. Davison offered a trophy to replace the Nesbitt 25 cup and the Nesbitt cup be left in the safe-keeping of J. Davison".
Overall height 10.5". Cup 7" high. Plinth 3.5" high, 4.5" diameter. A silver cup with plain curved handles and loose lid surmounted by a round brass badge of a racing cyclist. Winners names and dates are engraved on a silver band fitted to the black plinth.
| | | | |
| --- | --- | --- | --- |
| 2012 | Ben Hetherington | 2013 | James Falconer |
| 2010 | Mathilde Matthijsse | 2011 | Howard Heighton |
| 2008 | Steve Davies | 2009 | Ian Knights |
| 2006 | Wayne Boyes | 2007 | Ralph Lilley |
| 2004 | Steve Davies | 2005 | Steve Davies |
| 2002 | Andy Watson | 2003 | Jon Hewison |
| 2000 | Tony Monks | 2001 | Steve Davies |
| 1998 | Andy Watson | 1999 | Andy Watson |
| 1996 | Andy Watson | 1997 | Andy Watson |
| 1994 | Andy Cosgrove | 1995 | Jon Hewison |
| 1992 | Marshall Thomas | 1993 | Marshall Thomas |
| 1990 | Andy Watson | 1991 | Andy Watson |
| 1988 | Gary Firth | 1989 | Andy Cosgrove |
| 1986 | David Cook | 1987 | David Cook |
| 1984 | Alan Palmer | 1985 | Dave Watson |
| 1982 | Alan Palmer | 1983 | Alan Palmer |
| 1980 | David Oliver | 1981 | Steve Davies |
| 1978 | Adrian Dodds | 1979 | Roger Anderson |
| 1976 | Roger Anderson | 1977 | Roger Anderson |
| 1974 | Adrian Dodds | 1975 | Roger Anderson |
| 1972 | Adrian Dodds | 1973 | Adrian Dodds |
| 1970 | L Hutchinson | 1971 | Adrian Dodds |