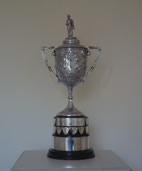 The Bob Edmenson Trophy.
Awarded to the rider with the best aggregate speed over 25, 50 and 100 miles. The 25 and 50 events must be held on Teesside courses, but the 100 can be any open event. If no member rides a 100, then times for 10, 25 and 50 will count.
Bob Edmenson won the trophy 9 times. When he died it was renamed the Bob Edmenson trophy and awarded to the rider having the highest average speed over 25, 50 and 100 miles.Overall height 22.5", 7.5" diameter. Black plinth 6" high. Cup 16.5" high. An ornately decorated cup with handles and a removable lid, surmounted by a clothed female figure. It stands on a circular black plinth which has a silver band bearing the inscription
'The Bob Edmenson Trophy'
Underneath is a row of shields giving the names of winners and below that a wide silver band with more winners' names and dates.
Winners
2017
2016
Howard Heighton
2015
Howard Heighton
2014
Howard Heighton
2013
Howard Heighton
2012
Howard Heighton
2011

Howard Heighton

2010

Mathilde Matthijsse

2009

Andreas Wolff

2008

Andreas Wolff

2007

Ralph Lilley

2006

Paul Felce

2005

No Award

2004

No Award

2003

Mark Mather

2002

Andy Watson

2001

No Award

2000

Tony Monks

1999

Tony Monks

1998

No Award

1997

Andy Watson

1996

Darren Oliver

1995

Adrian Dodds

1994

Andy Cosgrove

1993

Andy Cosgrove

1992

Andy Cosgrove

1991

Andy Cosgrove

1990

Andy Cosgrove

1989

Andy Cosgrove

1988

Adrian Dodds

1987

Adrian Dodds

1986

Adrian Dodds

1985

Adrian Dodds

1985

Adrian Dodds

1984

Adrian Dodds

1983

Adrian Dodds

1982

Adrian Dodds

1981

Adrian Dodds

1980

Adrian Dodds

1979

RogerAnderson

1978

Adrian Dodds

1977

RogerAnderson

1976

Alan Palmer

1975

RogerAnderson

1974

Ken Hudson

1973

RogerAnderson

1972

Adrian Dodds

1971

Adrian Dodds

1970

Bob Edmenson

1969

RogerAnderson

1968

Peter Holt

1967

Peter Holt

1966

Mel Littlefair

1965

Nick Hurst

1964

Bob Edmenson

1963

John Ward

1962

Graham Wanless

1961

George Bennett

1960

Bob Edmenson

1959

George Bennett

1958

George Bennett

1957

Bill Smith

1956

Bob Edmenson

1955

Tommy Birchall

1954

Bob Edmenson

1953

Joe Barker

1952

Joe Barker

1951

Bob Edmenson

1950

Bob Edmenson

1949

Bob Edmenson

1948

Bob Edmenson

1947

Joe Barker

1946

Joe Barker